yelabus Chairman John Ellis and Operations Manager Sarah Currie will be live on B Radio this Wednesday (29 June), between 11am-12pm.
Listen to B Radio in your car, at home and at work! 106.5fm or DAB (in places) or www.bradio.co.uk/hampshire-surrey
Our Operation Manager Sarah Currie and our Chair John Ellis had the pleasure of meeting Roger Noble at B Radio studio in Farnborough.
Make sure you tune-in to hear exclusively from the yelabus team!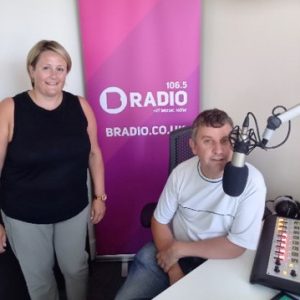 PICTURED: Sarah Currie yelabus Operation Manager and Roger Noble B Radio Station Manager Hampshire and Surrey